As a homeschooling mom of five kids {ranging in ages from 4-13}, I am always on the lookout for curriculum or resources that will make my life easier and my homeschool planning quicker. Enter: Christian HomeSchool Hub {
CHSH-Teach
}! I received an annual subscription to the
CHSH Download Club
in exchange for my honest review.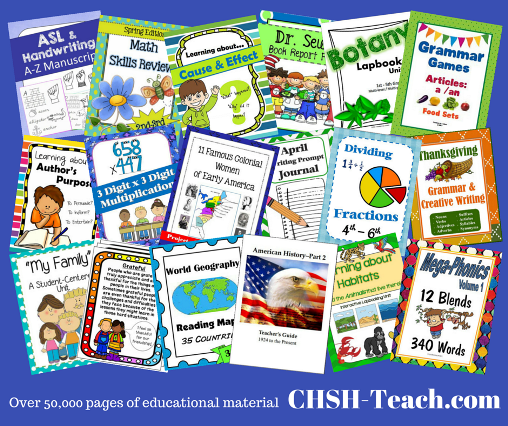 What is the CHSH Download Club?
This is a membership to a website that has over 50,000 downloadable pages of educational material. Yes - FIFTY THOUSAND. Most of these are created by Lynda Ackret, who also sells these materials on other sites. Some of these materials are created and shared by subscribers.
What types of materials are available?
There is such a variety of resources available on this website! They are organized extremely well - by subjects, by grade levels, and by months. Here is a sample of some of the categories:
Bible-related Resources - including Bible Memorization, People of the Bible Notebooking, Bold Believers Around the World, and Sermon Notes for Kids
Languages - Spanish, French, Italian, American Sign Language
Arts, Music, and Crafts - including Art and Drawing Instruction, Music Instruction, and Knitting
Language Arts - Writing, Reading and Literature, and Spelling
Math - broken into grade levels, including Resources and Posters, Fractions, and Roman Numerals, as well as high school level math
Science - broken into grade levels, including Human Anatomy, Biology and Marine Science
Social Studies - including Geography, History, and Economics
Electives - Architecture, Character Studies, and Social Issues
Health - including General Health and Dental Health
I feel like I haven't even touched on many of the subject areas included. I only gave a brief sampling. If there is something you are looking for, I can almost guarantee it would be on CHSH-Teach!
What are we using?
Mercie, my 3rd grader, needs improvement in her reading and listening comprehension. I was super excited to find book units under the Reading category! I printed off the "Muggie Maggie" unit, ordered the book from Amazon, and she completed the book unit. She loved it! There were comprehension questions, vocabulary, and creative writing activities.
I also printed off some writing prompts for her. I cut them out and glued them into a spiral notebook. Each day, she opens up to the next page and writes what she is prompted. She has loved doing this, and the writing prompts are very creative. A few examples are "What would you do if you found bugs in your salad?" and "What would you do if you woke up in a foreign country and couldn't talk to anybody?" Her writing has improved so much since we've been using the writing prompts! And I love the pictures she draws to go along with the journal entry.
The printables are excellent quality, and I had no trouble at all downloading and printing any of the resources I chose to use. Some of these are full-color with adorable graphics, but they are all very professionally done.The printables are organized very well, and it's extremely easy to find what you are looking for. There are so many different printables that I plan to use this school year! There is a health curriculum I have been looking to use with all of my children together, as well as some Bible Notebooking pages that I think they would enjoy. I plan to use some of the United States maps and pages for my two older children since they are studying American history this year.
There is also a community forum where you can interact with other members, as well as the option to share your own resources.
You can purchase a membership to CHSH-Teach as annual membership for $25 or a lifetime membership for $99. Trust me, it is totally worth it! Check out Christian HomeSchool Hub on
Facebook
and
Pinterest
.