We haven't used many unit studies in our homeschool, so I jumped at the chance to review a Micro-Study from
Homeschool Legacy
. We chose to review "
Thanksgiving with the Pilgrims
" since Thanksgiving is coming soon!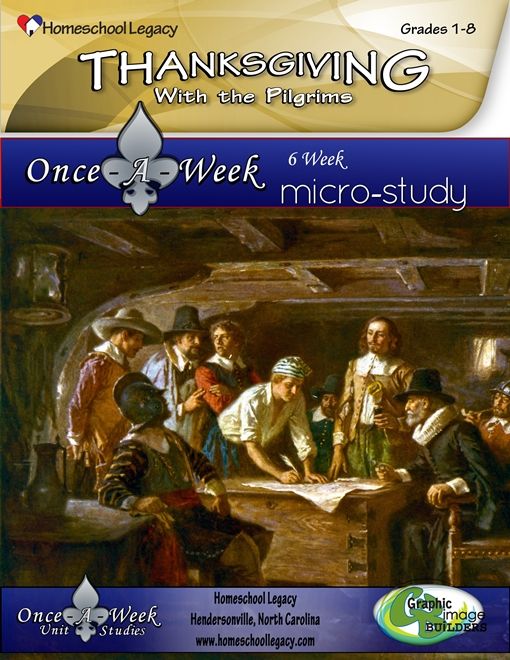 What is a Micro-Study?
These Grab-N-Go Micro Studies are to be completed in three, thirty-minute increments a week, but you may finish it all in one day or spread it out however you see fit. The Most of the studies are 4 weeks long, but this one is 6 weeks, and are recommended for grades 1-8. The regular Unit Studies are recommended for grades 2-12. There are recommended books for your family to read aloud during the six weeks, but no weekly library list of books or weekly devotions like the regular Unit Studies do.
How did we use "Thanksgiving with the Pilgrims?"
I received "Thanksgiving with the Pilgrims" in a digital format. I downloaded the file and printed out the 18 pages of material. There was about 3 pages of information, suggested videos and activities and discussion questions for each week. The weeks are titled as follows:
Week 1: The Scrooby Separatists
Week 2: The Voyage
Week 3: At Home in Plymouth
Week 4: Happy Thanksgiving
Week 5: The Puritans
Week 6: Merry Christmas
There are three suggested Family Read-Aloud Books for this study. I choose one for our family to read: "If You Sailed on the Mayflower in 1620" by Ann McGovern. I also purchased two more books that I knew would go along with what we would be studying.
We have completed three weeks of the six weeks in this study so far. The first week, we read about the religious persecution the Puritans and Separatists faced in England. We talked about how easy it is for people in America to change churches or denominations, but in England it was illegal to go to any church except the state church. We read about our First Amendment rights and thanked God for our religious freedom. We also talked about how important it is to pray for our country to continue to provide us with freedom of religion and how so many people in other countries don't have this privilege.
The second week, we read about the 66 day voyage the Pilgrims made to America. We read the book "If You Sailed on the Mayflower in 1620". The kids never realized how difficult the voyage was! Yet, only one person died on the trip over! We also read the Mayflower Compact and learned where and why it was written. The study suggested watching a portion of Kirk Cameron's documentary "Monumental". I found it for $5, so I bought the DVD. We watched it several times and learned so much more about the Pilgrims than I ever knew.
The third week, we learned how miserable the first winter was in Plymouth. Half of the Pilgrims died, and only four women remained. We also read about Squanto and how he helped to save the Pilgrims. I bought a book titled "Squanto" which had so much information in it! The kids loved it, and I always love to learn new things, as well. One of the recommended activities was to make and play a typical Pilgrim's children game. We did a quick search and discovered that the Pilgrim children played many games similar to the ones we play - hand-made checkers, hide-and-seek, and leapfrog are just few.

I am excited to finish the three weeks left in this study! We are enjoying it very much. I love the discussion questions, the video links, and the recipe and game suggestions. Homeschool Legacy offers many different Micro Studies:
Pirates or Privateers: You Decide
Cooking up History with the Founding Presidents
Victoria and Her World
Many Nations